Chop Gun Operator (Sign on Bonus!)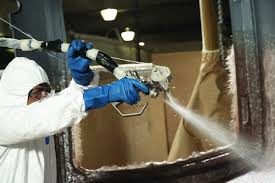 Our hand-crafted Spas and Swim Spas are made and tested to the highest quality standard and that quality starts with our team members in production. Each employee on the production line is asked to perform a variety of duties in a variety of departments, as cross-training is key to our continued success. You will need to follow the Work Order Instructions & Procedures in place in the department assigned to ensure production of a quality product at all times. All departments are required to work together as a team, so it is crucial that this person be dependable and able to work well with others. Chop Gun Operator pulls fixture with "skin" into spray booth area. Operator then proceeds to shoot laminate material evenly and thoroughly on the formed "skin". Operator must exert great care in this process to make sure laminate thickness is even on every portion of the "skin". Operator must follow posted click count cards to ensure proper fiberglass quantity. When this process is completed, Operator must assist rollers by manually rolling the laminate material just applied, insuring there are no air pockets between laminate and skin, and to provide proper mixing of catalyst and resin. When this is completed, Operator then starts the process over a new "skin". Between tubs, operator must maintain and clean chop gun.
The essential duties and responsibilities vary based on the department assigned. General duties and responsibilities include:
Must be capable of holding 20lb. chopper gun above head and as low as the wrist for fifteen 15 minute intervals.
Must wear protective equipment including respirator, paper body suit, gloves, masks, eyewear and ear plugs as required.
Must maintain proper working condition of the chopper gun and related equipment.
Attention to detail is key in this position.
Must be able to receive respirator clearance (Chop Gun Operators are required to use a half-face respirator and Tyvek suit at all times while in the department.)
Gauging and minor repairs of fiberglass and acrylic on spas
Ability to read, understand, and evaluate work processes and drawings
Knowledge of basic hand tools
All positions in the production facilities will require candidates being able to perform the following tasks repetitively, if needed, during scheduled shift.
Please understand that all the requirements are not described here and that all employees will be expected perform the Essential Duties and Responsibilities listed on own or with the help of reasonable accommodation as well as all other related duties as directed by supervision and/or management.
Must be able to lift, push and pull up to 100 lbs. with assistance (i.e. squat/thrust).
Must be manually dexterous.
Must be capable of working prolonged periods standing, sitting, squatting, and bending.
Must always follow all safety policies.
Must maintain daily cleanliness of department.
Ability to work in all environments both outdoors and non-temperature-controlled manufacturing facilities and/or warehouses.
Must be able to work in a facility that manufactures and/or works with various chemicals and materials such as fiberglass, resin, plastic, dust, glue, primer, foam, etc.
EDUCATION and/or EXPERIENCE:
High school diploma or equivalent minimum
Previous Chop Gun or similar experience preferred
Good attendance record
Fiberglass experience is a plus
JOB TYPE:
Full Time
SCHEDULE:

2 shifts available: Monday-Friday 6:00am-2:00pm and 3:00pm-11:00pm
COMPENSATION:

$17.00 per hour plus a sign on bonus of up to $500